Enclean Technology Limited reduces operating costs while improving energy efficiency
Enclean Technology Limited in Beijing, China is focusing on district heating and is committed on creating a greener future by providing more efficient, environmental-friendly and comfortable heating services.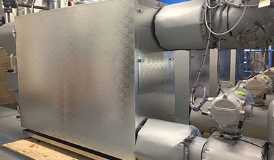 Waste to Energy - 80% was turned into district heating
Vestforbraending is one of the largest waste management companies in Northern Europe. The company owns and operates a combined heat and power producing waste-to-energy plant with an annual capacity of 600,000 tonnes of waste. All the heat produced is utilized as the plant is interconnected with the regional district heating system in Copenhagen.
Göteborg Energi sees the bigger picture
Gothenburg is a port city with a strategic location between Oslo and Copenhagen. With a population of approximately 530,000 it is Sweden's second largest city. As Western Sweden's leading energy company, Göteborgs Energi has been supplying the city with district heating since 1952. However, the company does not just supply residential and commercial buildings. By adding a car manufacturer plant and a ferry to the grid, energy utilization is optimized.
Container with cooling capacity
Cooling facilities in ambient temperatures of up to 50 °C are a well-known challenge in the industry. SWEP's containerized, Energy Transfer Stations for district cooling provide the solution.