Adapting for maximum efficiency, comfort and convenience in iconic London office building
100 Bishopsgate is one of the largest office buildings in the heart of London, providing nearly 11,000 square feet of flexible space across 37 floors. It was developed and is managed by Brookfield Properties on behalf of Brookfield Asset Management, one of the largest alternative asset managers in the world.
Joint district heating project for a fossil-free future
Vattenfall's Hakfort project showcases the largest capacity heat transfer station utilizing brazed plate heat exchangers. This investment of Vattenfall enables the expansion of the Amsterdam district heating grid. In total, the district heating grid will heat up to 290.000 households in Amsterdam by 2040. An unprecedented capacity of 84MW uses SWEP B649 heat exchangers.
SWEP plays major role in innovative Danish district heating project
A former agricultural area in Høje-Taastrup on the outskirts of Copenhagen has been transformed into a thermal energy storage facility. The facility or 'Heat pit storage' as it is bestknown, supports the district heating system that serves the Copenhagen metropolitan area. Its purpose is to store district heating from four connected Combined Heat and Power (CHP) plants and three waste to energy plants when it is cheap to produce, then to distribute it when it is expensive to produce.
Absolicon solar park heat up Härnösand
Absolicon Solar Collector, a pioneer in the development of sustainable technology, is involved in the development of Sweden's largest district heating system based on solar concentrating technology. The Högslätten solar thermal park in Härnösand is being built by Absolicon in collaboration with the Swedish Energy Agency and is the first large capacity solar-powered district heating plant in Sweden for 20 years.
Limited space makes SWEP brazed plate heat exchangers the ideal heating solution at college campus
Tight space requirements paired with a need for a very close cross over temperature between the boiler and water temperatures led to SWEP brazed plate heat exchangers being the ideal heating solution chosen over competing technologies.
ORC technology delivers sustainable power
Leading Swedish renewable energy pioneer Againity AB and SWEP have joined forces in a pioneering power initiative in the southern Sweden. The initiative has enabled local district heating provider Perstorps District Heating to upgrade its 12 MW biomass-fired heat plant to become a combined heat and power (CHP) plant.
SWEP Systems help provide warmth and comfort to Beijing residents
Due to the Covid-19 pandemic, residents in almost all parts of China had to conduct their daily activities indoors. To guarantee the living quality and comfort level of these residents, Beijing officials made the decision to extend its central heating service in the city for 16 additional days (until March 31st, 2020).
Creating a modern and modular cooling solution for The Second Affiliated Hospital of Fujian Medical University
The cooling system in the ward and office areas of The Second Affiliated Hospital of Fujian Medical University was in need of an upgrade. SWEP designed a solution using prefabricated Energy Transfer Station (ETS) modules. The flexibility of these modules allowed for a fast, high-quality installation that fits into the limited available space while still being able to provide a stable and comfortable cooling environment to medical staff and patients and helping to facilitate the medical modernisation in China.
Oventrop: Keep water running with Sealix® brazed plate heat exchangers
Scaling and corrosion are two of the main reasons for the breakdown of tap water heating systems. This was also the experience of Oventrop – one of Europe's leading manufacturers of sanitary fittings and water systems. At least until they turned to SWEP's new range of Sealix® protected brazed-plate heat exchangers.
Using available energy for productive use
ORC (Organic Rankine Cycle) technology made possible by SWEP brazed plate heat exchangers is being used in Sweden to transform waste heat into renewable electricity. This high efficiency and low maintenance way to produce sustainable electricity is being adopted by district heating systems around the world.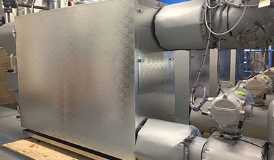 Waste to Energy - 80% was turned into district heating
Vestforbraending is one of the largest waste management companies in Northern Europe. The company owns and operates a combined heat and power producing waste-to-energy plant with an annual capacity of 600,000 tonnes of waste. All the heat produced is utilized as the plant is interconnected with the regional district heating system in Copenhagen.
Göteborg Energi sees the bigger picture
Gothenburg is a port city with a strategic location between Oslo and Copenhagen. With a population of approximately 530,000 it is Sweden's second largest city. As Western Sweden's leading energy company, Göteborgs Energi has been supplying the city with district heating since 1952. However, the company does not just supply residential and commercial buildings. By adding a car manufacturer plant and a ferry to the grid, energy utilization is optimized.