Using available energy for productive use
ORC (Organic Rankine Cycle) technology made possible by SWEP brazed plate heat exchangers is being used in Sweden to transform waste heat into renewable electricity. This high efficiency and low maintenance way to produce sustainable electricity is being adopted by district heating systems around the world.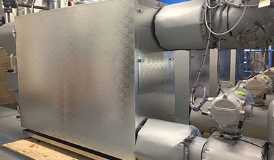 Waste to Energy - SWEP transfer 51MW at Lyngby Kraftvarmeværk A/S
Vestforbraending is one of the largest waste management companies in Northern Europe. The company owns and operates a combined heat and power producing waste-to-energy plant with an annual capacity of 600,000 tonnes of waste. All the heat produced is utilized as the plant is interconnected with the regional district heating system in Copenhagen.
How Volvo Car Gent is driving sustainability
SWEP's compact and high capacity brazed plate heat exchangers (BPHEs) have allowed Volvo Car Gent to substantially reduce its use of fossil fuels for heating purposes. CO2 emissions have been decreased by 15,000 tons per year, a net decrease of more than 40 percent.
UMASS Albert Sherman Center
När University of Massachusetts Medical School öppnade sitt 400 miljoner dollars högteknologiska Albert Sherman Center på sitt campus i Worcester, MA, i början av 2013 sade man att detta skulle göra det möjligt för universitetet att "träda in i en ny era av biomedicinsk forskning, medicinsk utbildning och samarbete på campus". Samarbetet skulle även komma att spela en framträdande roll i hur den 11 våningar höga byggnaden på 47 500 kvm skulle kylas under traktens ofta varma och fuktiga somrar.
Att göra Montpelier mer hanterbar
Med hjälp av våra BPHE:er har fjärrvärmesystemet i Vermonts huvudstad varit en stor framgång.
Tele2 Arena
Kraftfull teknik för en modern arena
Den prisbelönta Tele2 Arena i Stockholm hyser stora evenemang inom både underhållning och idrott. SWEP:s kraftfulla lödda plattvärmeväxlare (BPHE) möjliggör en snabb och tillförlitlig uppbyggnad av högkvalitativ is för vintersportevenemang.
Heat exchangers bring 34% higher capacity to new energy transfer station
More power and less maintenance combined with reliable operation. The new energy transfer station in Danish Glostrup have found a cost-effective solution with two of SWEP's B649 brazed plate heat exchangers.
Reliable BPHE for sensitive research
After a public tender, the Catholic University of Leuven (KU Leuven) in Belgium awarded Cofely Axima (GDF SUEZ) parts of the contract to build a new chemical laboratory.
Göteborg Energi sees the bigger picture
Gothenburg is a port city with a strategic location between Oslo and Copenhagen. With a population of approximately 530,000 it is Sweden's second largest city. As Western Sweden's leading energy company, Göteborgs Energi has been supplying the city with district heating since 1952. However, the company does not just supply residential and commercial buildings. By adding a car manufacturer plant and a ferry to the grid, energy utilization is optimized.
Critical IT equipment requires efficient cooling
When the India-based IT company Infosys Technologies Ltd. selected Schneider Electric to install a system for a Data Center Cooling application, Schneider decided to opt for an efficient SWEP brazed plate heat exchanger (BPHE).
Dutch tap water
Due to safety reasons, during the past decades, the Dutch market has opted for double-wall tap water Brazed Plate Heat Exchangers (BPHEs) in their district heating networks.
Compact and reliable BPHEs at Hadeed District Cooling Plant
Located in the Jubail Industry City of Saudi Arabia, the Hadeed District Cooling Plant has replaced all existing chillers and DX units which have previously served individual buildings in the area.