SWEP's All-stainless BPHEs provide strong solution for the food process industry in biogas application
Luming Inteligência Energética had an application where the main objective of the system was to generate electricity reusing the energy contained in the biogas. They needed a compact, non-corrosive solution and SWEP BPHEs were able to deliver.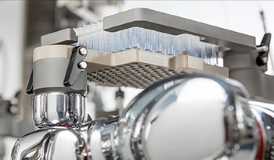 Optimizing freeze drying solutions for the Pharma Industry
For more than half a century, IMA Life Freeze Drying Solutions has been the gold standard when it comes to providing the benchmark for freeze drying solutions to the pharmaceutical and biotech industries.
SWEP's largest BPHE range provides efficient, compact oil cooling solution
One of SWEP's largest BPHEs provided a compact, effective solution that helped Woerner create the ideal oil cooling solution needed for their skid system. Even though our XL range is some of the largest BPHEs we produce, we were still able to provide a much more efficient solution in a smaller package compared to the competing, older technologies like Shell & Tube.
At the forefront of innovative solutions
A major provider of thermoplastic, thermosetting and elastomer injection molding machines, Negri Bossi India Pvt Ltd knows what is important: reliable performance and efficient use of energy. Ensuring that customers enjoy a major competitive advantage while remaining environment-friendly, their machines represent the industry benchmark for low energy consumption.
Aircel air dryers show their full potential with ADWIS
With 100,000 units sold at the beginning of 2015, SWEP's range ADWIS (Air Dryer With Integrated Separator) is now quickly becoming the market standard within several industrial applications. A successful combination of research and thorough knowledge of market demands, this solution solves a common problem without compromising compactness or efficiency.
Outokumpu cools machine shop using natural elements
Outokumpu – a world-leading company in custom-made products in coarse, special stainless steel (quarto) – has invested heavily in its rolling mill in Degerfors, Sweden. Cooling the machine shop to enable it to provide the best service to the rolling mill is of crucial importance.
BPHE vid PET-flasktillverkning
Läskindustrin var den främsta drivkraften bakom utvecklingen av polyetentereftalat (PET) flaskan.
BPHE för chokladtillverkning
Mycket uppmärksamhet har ägnats åt pneumatisk transport på grund av sina många möjligheter och fördelar.
BAOSI & SWEP: Working together to support the fight against COVID-19
The COVID-19 pandemic in 2020 took the entire world by surprise. The devastating effects were felt in every major city and it turned the healthcare industry on its head. One of the most needed items in hospitals on the frontlines was personal protective equipment (PPE), including surgical masks. The melt-blown fabric used for medical surgical masks is created by blowing hot compressed purified air which is heated using BPHEs.