Using available energy for productive use
ORC (Organic Rankine Cycle) technology made possible by SWEP brazed plate heat exchangers is being used in Sweden to transform waste heat into renewable electricity. This high efficiency and low maintenance way to produce sustainable electricity is being adopted by district heating systems around the world.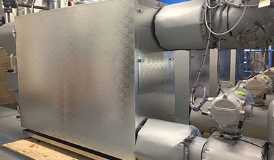 Waste to Energy - SWEP transfer 51MW at Lyngby Kraftvarmeværk A/S
Vestforbraending is one of the largest waste management companies in Northern Europe. The company owns and operates a combined heat and power producing waste-to-energy plant with an annual capacity of 600,000 tonnes of waste. All the heat produced is utilized as the plant is interconnected with the regional district heating system in Copenhagen.
Airflux- significant cost savings and lowered CO2 emissions through efficient heat-recovery solutions
Airflux, based in Lille, France, is one of the leading providers of air compressors for the French market.
Göteborg Energi sees the bigger picture
Gothenburg is a port city with a strategic location between Oslo and Copenhagen. With a population of approximately 530,000 it is Sweden's second largest city. As Western Sweden's leading energy company, Göteborgs Energi has been supplying the city with district heating since 1952. However, the company does not just supply residential and commercial buildings. By adding a car manufacturer plant and a ferry to the grid, energy utilization is optimized.
Shining a light on tomatoes
A single J624 from GE Energy with an output of 4 MW can cover the power needs of about 9,000 European households. Moreover, this flagship is helping to shine a light on Dutch tomatoes consumed all over Europe. SWEP's B427 is an integral part of this impressive unit.
Outokumpu cools machine shop using natural elements
Outokumpu – a world-leading company in custom-made products in coarse, special stainless steel (quarto) – has invested heavily in its rolling mill in Degerfors, Sweden. Cooling the machine shop to enable it to provide the best service to the rolling mill is of crucial importance.
Ren energi när ORC-systemet återvinner spillvärme
En prisvärd och hållbar energiförsörjning är a och o i det moderna samhället liksom den globala ekonomin.
Heat recovery leads to remarkable savings in energy and cost at Cancun resort
Crown Paradise Cancun - a popular resort in Mexico - hired Ecochillers, a manufacturer of chillers and condensing units, to provide a more efficient heating system that better served their needs. With the help of a SWEP heat recovery solution, they got a dependable and efficient system with low maintenance and highly notable savings in energy and cost.